---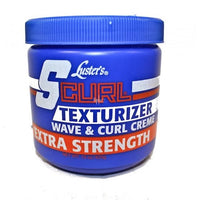 S-CURL TEXTURIZER WAVE & CURL CREME 15 oz
S-CURL Wave & Curl Creme is a texturing relaxer. It works by expanding the natural curl or wave already present in your hair.
WARNING
1) This product contains Sodium Hydroxide (Lye). Keep out of reach of children. Follow directions carefully to avoid skin and scalp burns, hair loss and eye injury.
2) DO NOT use if scalp is irritated or injured.
3) DO NOT use if hair has been previously treated (i.e. blown dry, hot-picked, braided, pressed, curled, relaxed or curly permed, or any other treatment that would alter the natural curl formation.
4) If S-Curl Creme causes skin or scalp irritation, rinse out immediately and shampoo with a neutralizing shampoo. If irritation persists, or if hair loss occurs, consult a physician.
5) If S-Curl Wave * Curl Creme gets into eyes, rinse out immediately and consult a physician.
PATCH TEST
1) Apply S-Curls Wave & Curl Creme to small section of hair (approximately 1-2 inches in diameter).
2) Comb Wave & Curl Creme through hair (using a large tooth comb).
3) If hair appears to straighten out after this brief combing, do not continue.
4) If hair appears to wave, curl up or draw up toward the scalp, it is safe to continue.
DIRECTIONS
Do not shampoo hair before applying S-Curl Wave & Curl Crème
 Apply Luster S-Curl Creme over entire head using back of large tooth comb.
Comb the S-Curl Creme gently through until an S-Wave pattern appears. For best results, concentrate combing first in the most resistant area (usually the back and around the hairline) then through the rest of the head.
*If hair is particularly fine or thin, do not straighten completely, leave a slight S-Wave formation in hair
Rinse the S-Curl Creme thoroughly from the hair with water as warm as the patron can stand.
Then shampoo hair at least twice with a conditioning neutralizing shampoo which is designed to neutralize and softening action of the S-Curl Creme as well as condition the hair. Rinse, lather away thoroughly with warm water. Towel blot to eliminate excess moisture.
Spray a small amount of S-Curl NO DRIP Activator and Moisturizer on scalp and gently massage through hair. Style as desired.
New Growth Re-touch
Follow directions in step 1, and 2 but only apply to new grow (hair that has brown since the application of the last Wave & Curl Creme. Frequency of application of this product should not exceed every four weeks.