---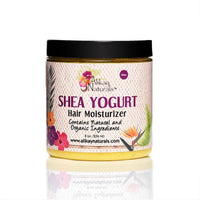 Do you have kinky or curly hair that just stays dry no matter what? Not anymore! Shea Yogurt Hair Moisturizer delivers moisture and more moisture to hydrate even the driest hair while using qulity ingredients. This specially-formulated moisturizer leaves your hair softer, shinier and more manageable than ever.
The yummy smelling cream base is light and fluffy so it won't cause build-up. Shea Yogurt is also infused with the highest-quality moisturizing botanicals and oils to hydrate your hair from the inside out, leaving it stronger and healthier.
Shea Yogurt works great by itself and even better with Lemongrass Leave In Conditioner sprayed on before applying.
Can be used on wet or dry hair. If used on wet hair, first wash and detangle. Next, part hair into sections and apply a fingertip amount to each section, raking into hair as you go. Then style as usual. If used on dry hair, apply a fingertip amount starting at the roots, then style as usual. Your hair may feel oily but this is by design; your hair will hungrily absorb it as it dries.
Hair Tip: We weren't kidding when we said Shea Yogurt delivers moisture and more moisture, so we highly recommend it for kinky/curly hair types. To achieve amazing styles, spray Lemongrass Leave in Conditioner first on wet or dry hair. Follow our healthy hair regimen at AlikayNaturals.com.

Safe For Color Treated Hair
Disclaimer: This product does not contain actual edible yogurt or ingredients. This product is not for internal consumption.
Key Ingredients: Butyrospermum Parkii (Shea Butter), Argania Spinosa (Argan) Oil , Prunus Amygdalus Dulcis (Sweet Almond) Oil, Cocos Nucifera (Coconut) Oil, Triticum Vulgare (Wheat) Germ Oil, Rosmarinus Officinalis (Rosemary) Leaf Extract, Botanical Blend, Fragrance
Featured Ingredients:
Raw Shea Butter: Contains emollient properties that seals moisture into hair, avoids hair breakage and contains nourishing vitamins and minerals.
Argan Oil: Revives dull dry hair, reduces frizz, enhances elasticity, renews luster and shine, helps manageability while promoting healthy hair.
Coconut Oil: Rich in fatty acids that increases hair shine and strength. Binds to hair protein structure to avoid hair breakage.